Outreach of King of Peace
We know that we are but one ministry reaching our community and the world and that other ministries are vital to the Kingdom of God and even the work we do at King of Peace. Therefore, King of Peace gives a portion of its money to support other outreach efforts in our community and beyond. What follows is not a comprehensive list of the ministries to whom we have lent financial support, but a sampling of the type of efforts we have been blessed to take part in with prayers, sometimes with volunteer work from the congregation and, yes also, through monetary donations.
In Camden County

Boy Scouts
King of Peace chartered Troop 226 as an outreach of our congregation.
Camden County Jail
King of Peace has provided Bibles and other quality Christian books for inmates. We also have supported the Reach Out & Touch Ministry in their jail ministry.
Camden Christian Ministerial Alliance
King of Peace is a member of the Camden Christian Ministerial Alliance and our pastor has served as the group's Vice President and the Treasurer. The Alliance provides volunteer chaplains for the local hospital (the Camden Campus of the Southeast Georgia Health System) as well as putting on local events.
Camden House
We provide financial support to women moving out of the shelter and reestablishing themselves on their own.
Diocese of Georgia Summer Camp
We support children who need scholarships to our Episcopal Summer Camp, Honey Creek, which is just off Dover Bluff Road at the north end of Camden County.
Girl Scouts
King of Peace serves as the monthly meeting place for the troop leaders who gather as a district for training and planning. A Girl Scout Troop also meets at King of Peace.
Habitat for Humanity of Camden County
We have given to Habitat monetarily and we have also gone to participate in build days and in providing lunch for the build site. Our pastor is also the immediate past president of Habitat for Humanity of Camden County, having served three years as president.
King of Peace Episcopal Day School
We have created a separate non-profit corporation to start a full-day, full-year preschool. We know that in many both one- and two-parent households, the parents must work full time. They need someone to care for their preschool age children. The Preschool exists to provide the best possible quality care in a Christian environment with age-appropriate, structured learning as an integral part of the day.
Narcotics Anonymous
King of Peace has an NA group which meets at the church twice a week. We also bought the materials to get an earlier group going at the church and those materials are now in use for the NA which meets at the Camden County Jail.
National Alliance for the Mentally Ill
King of Peace has given to support our local chapter of NAMI, a group dedicated to breaking the stigma of mental illness. NAMI provides support to friends and family of those suffering with mental illness. Our pastor is a past board member of NAMI.
WECC 89.3 Radio
We give a small amount each month to support our local radio station, the Lighthouse 89.3.
Other Churches
When we know of needs within other churches and are able to respond, we do so. This has included giving toward a new heating and air unit for Joy Lutheran Church, paving the road leading to Holy Trinity Lutheran Church, giving to the new building for Christ Episcopal Church in St. Marys, supporting mission trips from Agape Christian Fellowship and Kingsland United Methodist Church. While these gifts of as little as $50 and no more than $150 have been small, we hope that they demonstrate a tangible means of showing that we know that we are all on the same team, serving the same God as best we can.
These monetary gifts are in addition to joining with Joy Lutheran for Vacation Bible School and Christ Episcopal St. Marys and St. Marks Woodbine for worship during Lent. We also have joined with Our Lady Star of the Sea Roman Catholic, Christ Episcopal and Joy Lutheran for a Blessing of the Animals service.
Beyond Camden County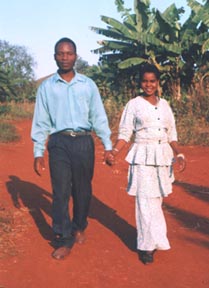 Daudi and Olivia Ndhana
In 1998, our pastor, Frank, served as an intern in the Anglican Church in Tanzania. At that time, he met Daudi and Olivia Ndahana (pictured at left) as Daudi was feeling called to full-time ministry and considering seminary. King of Peace assisted Olivia in her own Bible College studies so that she may assist Daudi in ministry as she feels called by God to take an active role as a pastor's wife. Olivia was graduated from Kasulu Bible College in May of 2004.
Daudi was sent by the Anglican Church in Tanzania for further studies at Wisconsin's Nashotah House seminary during 2007-2008 and 2008-2009 school years. From there, Daudi visited King of Peace at Easter 2008 and preached at our Easter Vigil. The church was able to provide him with a laptop computer and to send funds to assist Olivia in buying a new home. We look forward to having both of them with us at Christmastime in 2008.
The Diocese of the Dominican Republic
This is the companion diocese of our own Diocese of Georgia. We have provided two scholarships to Episcopal Schools in the DR for several years. We also have given to women's health projects and assistance to the victims of flooding within that country. We have been blessed by having a priest from that diocese come to King of Peace to preach and join with us in a Kids in the Kingdom Sunday. We hope to put together short term mission groups from King of Peace to work in the Dominican Republic.
Disaster Relief
King of Peace is teaming with other Episcopal Churches (13 of them at present) to assist the Church of the Redeemer in Biloxi, Mississippi in the wake of Hurricane Katrina. This will be a long-term effort. More information is online here.
We have also given on a number of occasions to assist in the wake of other tragedies. Sometimes this has been with goods themselves, such as when we shipped supplies to help an aid station for workers clearing the rubble of the World Trade Centers. We have also sent monetary support, such as to assist St. Francis Episcopal Church in Camilla, Georgia to reach out to neighbors displaced by a tornado there in 2003 and to assist churches in Florida with relief after Hurricanes Charley and Francis in 2004. We have also given disaster relief funds through Episcopal Relief and Development.
Episcopal Seminaries
Every Episcopal Church is asked to give one percent of its budget to theological training for the next generation of ordained ministers. King of Peace splits its one percent, giving half each year to the University of the South, School of Theology and Virginia Theological Seminary.
Voice of the Martyrs
We have from the beginning of King of Peace taken part in many Voice of the Martyrs projects including sending Action Paks and Blankets of Love to persecuted Christians.